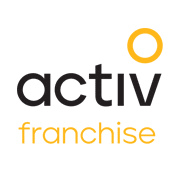 Join the UK's Longest Running Digital Marketing Franchise
Combine the beauty of being your own boss, flexible working and a favourable work-life balance by joining a highly experienced franchisee network with an activ marketing franchise.
The activ Franchise Opportunity
Since 2008, we've provided digital marketing excellency to clients across the globe including UK, Ireland, Europe, Asia and Australia, via our team of motivated franchisees.
Our biggest commitment to our franchisees (and soon…you?), the opportunity to build a successful business, with work-life balance in mind.
Our vision is to offer flexibility, profitability and inspiration for future entrepreneurs to run their own marketing business, whilst supporting our ever-growing family of franchisees through training, specialist support, technical know-how and ongoing campaigns.
Don't miss out on this fantastic opportunity to be your own boss with a career you'll love.
What Do I Get?
The activ marketing franchise costs just £6,995+VAT and there are no management fees for the first three months. Between months 4 to 12, the management fees are heavily reduced, enabling you to focus on establishing your franchise.
When you join activ marketing, you'll receive everything you need to set up and run an established marketing business, under the name of a trusted, recognised brand. This includes:
A mixture of in person and virtual training covering back office and operations, sales and marketing, plus technical training
An activ branded toolbox to get your business started
Your franchise portal account which gives you full access to all activ services allowing you to start selling right away.
Your own dedicated franchise development officer who will assist you in developing your business
Constant ongoing training and assistance through our advanced digital training platform
Your own local website for your business area, hosted for free as long as you are a franchisee
Up to 5 email addresses for your business
Customer agreement forms that have been designed by our legal team to ensure we comply with all relevant legislation
It's not unrealistic to expect a revenue up to £7,000 per month after 24 months, and the more effort you put in, the more you'll get out of running your own business.
Get In Touch
It is estimated that around 2 million small businesses don't have a website, and are therefore missing out on a substantial number of customers. Now is the perfect time to take advantage of the demand for marketing services and this is the perfect opportunity for anyone who:
Is looking for a career change
Has heaps of drive and ambition and can sell!
Has recently been made redundant and is very organised and great at communicating#
Prefers to work from home
Wants to expand their services in a similar field. E.g. a graphic designer or marketing consultant.
Has a current role which is no longer fulfilling
Has an interest or experience in digital marketing
Would like to be recognised as a supporter and contributor to their local business community
If this sounds like you, complete the form below and we'll send you more information.