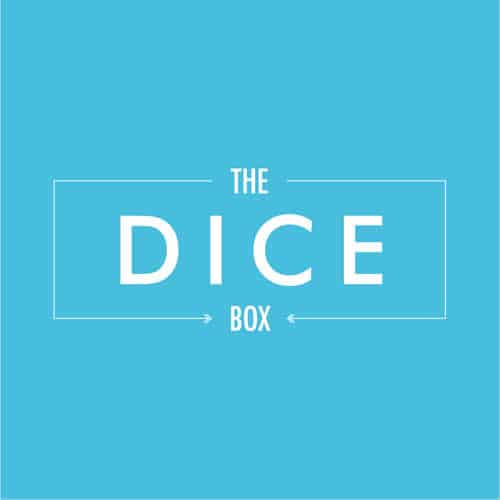 Run Your Own Gaming Cafe with The Dice Box!
The Dice Box was established by founders Trev and Steph, who wanted to share their passion for board games with others. With a games library of over 600 board games, The Dice Box combines a casual café environment with a range of long, short, single and multiplayer games creating fun for everyone.
The Dice Box game collection features many favourites including Scrabble, Monopoly, Chess, Guess Who, Dominoes, Operation, Pass The Bomb and many more. Other popular games include Ticket to Ride, Pandemic, Carcassonne, Wingspan, Scythe, Catan, 7 Wonder's and these make up just 1% of the collection! What's more, The Dice Box sell the many popular board games through their shop area in each gaming café, enabling visitors to take their board game experience home with them.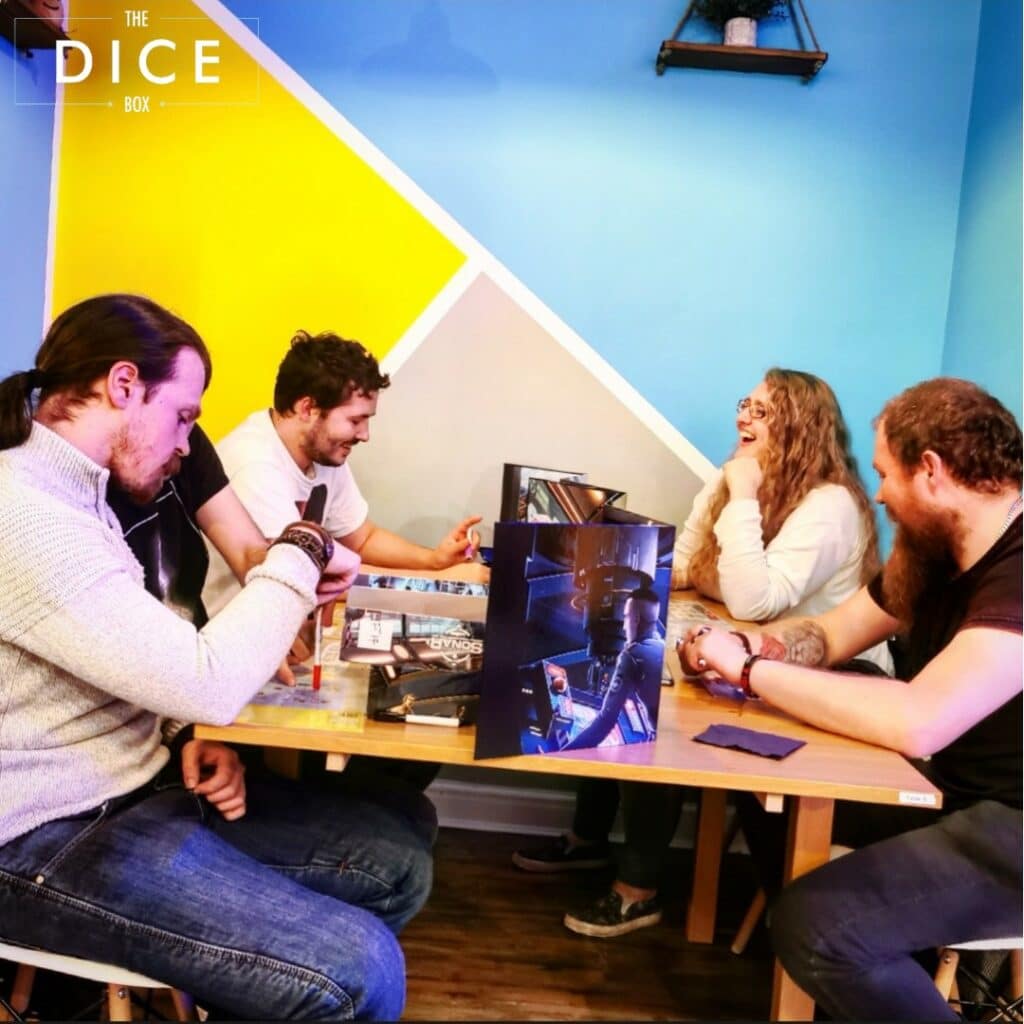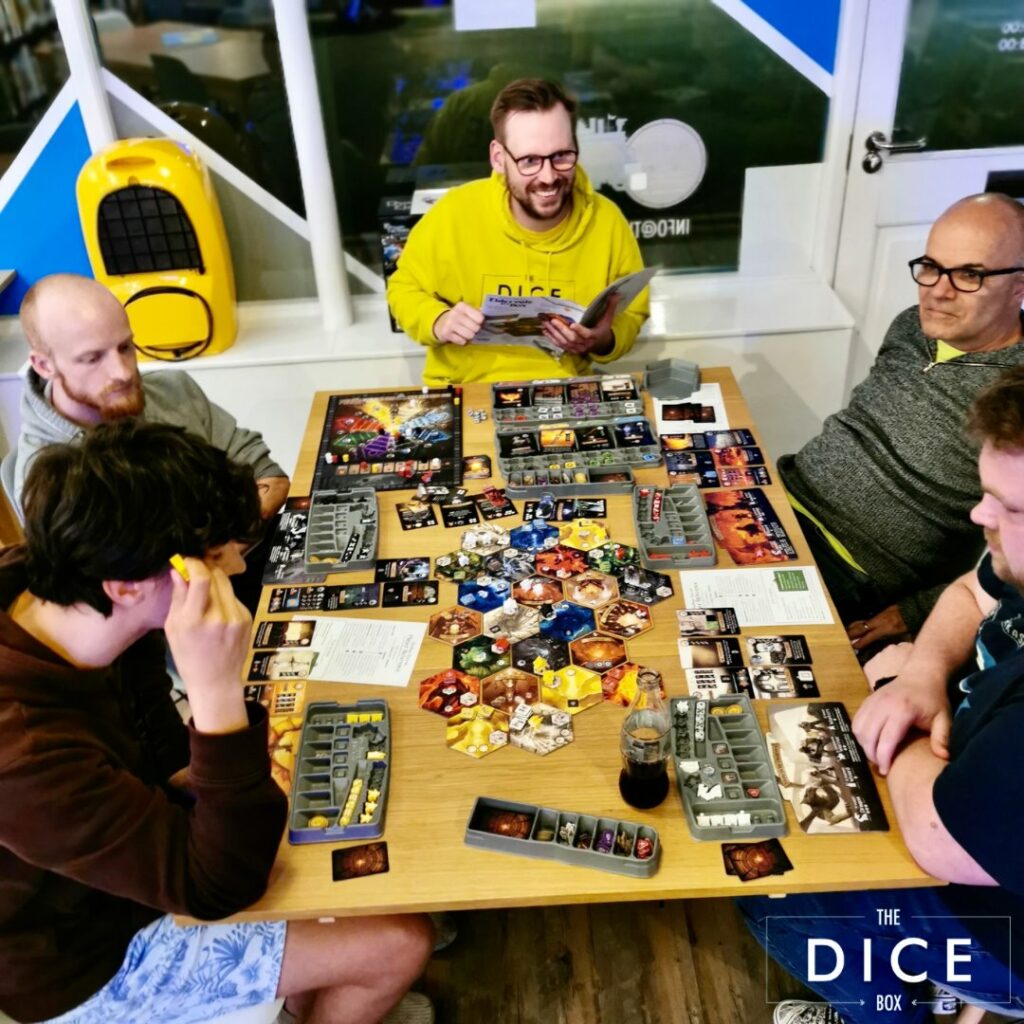 Why Join The Dice Box
If you're passionate about providing an unrivalled level of customer service, have a thirst for running your own business and simply love board games, then The Dice Box would be the perfect opportunity for you. The Dice Box business model includes several revenue streams. Firstly, an entry fee applies to customers, which gives access to the board game café. Thereafter, a variety of teas, coffees, sandwiches and other refreshments are available through the café kitchen. There is also the opportunity to upsell on the fact that board games can be purchased through the in-café shop.
What's Included?
When you join The Dice Box, you'll receive everything you need to set up your own established gaming café. This includes:
Full Training and Ongoing Support – Steph, Trev, a team of franchise consultants and a dedicated head-office team are on hand to help you launch your own board game cafe.
Stock – For the franchise investment, you receive everything you need to set up shop, and this includes initial stock, uniforms, marketing packs and more.
Set up and operational assistance - Including Tablet, Electronic Point of Sale, Signage and 1st Year accountancy with company formation.
Exclusive Territory – You'll be allocated your own franchise territory to trade in, which ensures no other Dice Box franchisees will take potential customers from you.
Launch Marketing – We'll provide 10,000 flyers as well as inclusion in local magazines and social media shares to make the best possible start in your area.
Rights to Trade – Included in the investment are the rights to trade under The Dice Box brand name, allowing use of the logo and proven systems of operation.
The Earning Potential
With a Dice Box franchise, the earning potential is very much up to you. Therefore, what you get from your board game café depends on how much effort you put into marketing your business, quality of customer service and the size of your Dice Box shop and café. We'd expect a turnover of £150,000 in year one, rising to almost £300,000 in year two and the potential to earn a six-figure income from year 3. These figures are based on existing business turnover in a relatively small venue and will depend on your venue size and willingness to work hard and make your Dice Box franchise the best it can possibly be.

Who We're Looking For
Our Dice Box franchise recruitment policy is thorough and honest. We need to make sure that the fit is right for all parties, to enable a strong working relationship. If you tick the the boxes below, then you've already got some of the key ingredients required for becoming a successful Dice Box franchisee!
Hard working.
Can-do attitude.
A people person.
An interest in board games.
The ability to follow a business model.
A strong desire to succeed.
A willingness to have fun and enjoy your job.
What Visitors Think
"A warm and welcoming atmosphere, helpful staff and a decent game selection. The food and drink was top notch and we had a great time. Wasn't my first visit here and it certainly won't be my last. Look forward to the next visit." - Kristofus T - Happy Customer
"Extremely hospitable, amicable and very helpful. Suitable environment for almost all occasions with such variety in what it offers." - Dion Tickner - Happy Customer
Interested?
If you'd like to learn more about The Dice Box franchise opportunity, please get in touch by clicking below. We'll be in touch with more information about the investment, the business model and the potential earnings which you can achieve by running your own board game café under The Dice Box' name.
"We wanted to create a space where everyone feels welcome. It doesn't matter whether you have been playing board games for years or whether you have never played anything! Modern board games are so much fun and so interactive that in todays technology driven world there is nothing better than socialising over a board game. We chose to open The Dice Box in Leamington Spa as it's such a thriving town full of many other fantastic independent businesses. People in Leamington really do support local business! Our customers are absolutely wonderful and its great to see people just having fun." - Steph and Trev - Franchisors - The Dice Box