We are exhibiting! Visit us and learn more about becoming a Screen Rescue franchisee.
Imagine owning a highly profitable, low-cost franchise where you can build a thriving repeat business client base in all sectors of the commercial automotive world and enjoy the financial stability that comes from developing long-term business relationships every day.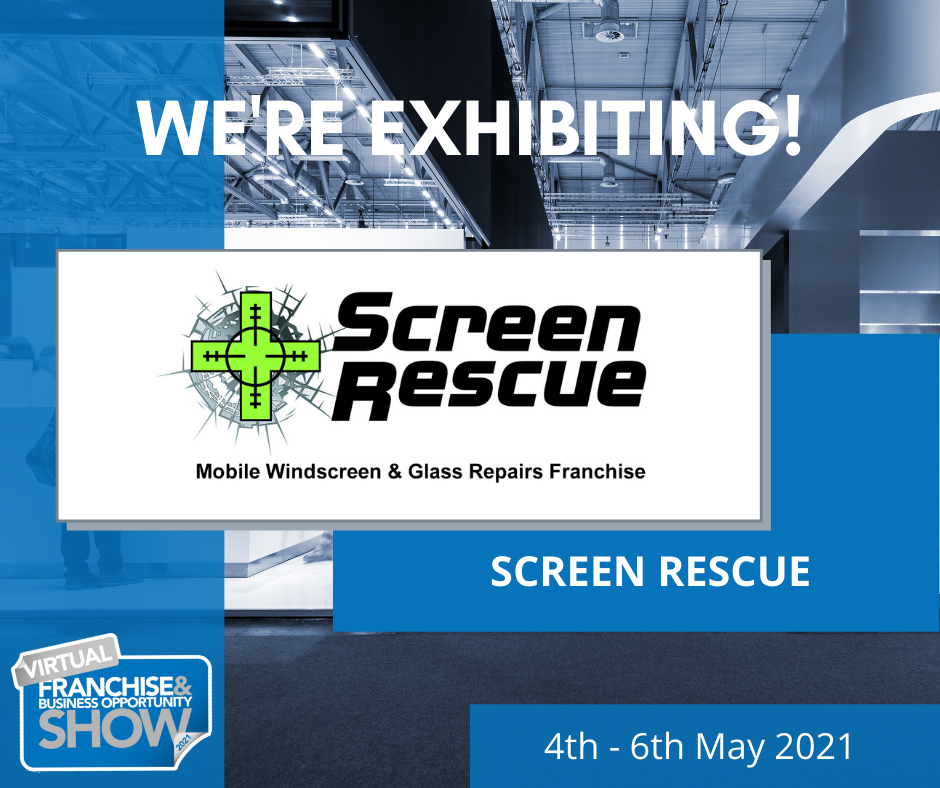 Following the uncertainty of events during the past year, many budding entrepreneurs are now considering a career change with a newfound work/life balance in mind. If you are looking to take control of your future, a Screen Rescue franchise may be the perfect business opportunity for you!
Screen Rescue franchisor, Amanda Hilario explains how you can attend this virtual event from the comfort of your own armchair.
1. "How do I attend this event?"
First, you'll need to register for your FREE ticket at https://bit.ly/2P8S3fh which will enable you to keep updated with all exhibitors and features leading up to the show. You'll also receive your own entry link as we go live on the day, which will give you access to browse and visit our stand from the comfort of your own armchair.
2. "When is this event?"

The event opens at 9.00am on Tuesday 4th May and closes at midnight on Thursday 6th May 2021.
3. "What will your stand display?"
We will be showcasing our franchise opportunity through our customised, branded stand. Visit our stand, and you'll be able to view and access our latest 2021 Franchise Brochure. You'll be able to visit our new Website where you will have unlimited access to our News, Blog, franchisee Case Studies and more information about the Screen Rescue franchise opportunity. On our stand we'll also provide links to our LinkedIn and Twitter social media channels. Very quickly, you'll be able to establish if a Screen Rescue franchise opportunity is of interest to you.
4. "How can I contact you at the show?"
Our stand will include a variety of contact methods for you to be able to get in touch with us in a way that feels most comfortable and convenient to you. We'll be active on our stand as much as possible over the three days, offering telephone and email contact as well as a 'live-chat' feature and video call option if you wish to engage with us on the day – you may have a burning question you want us to answer there and then! And when we're busy talking with other interested franchisees, you'll be prompted to leave a message so we can connect and contact you when we're free.
We'll also be able to access a 'Who's Here' feature, which lets us know who is on our stand at any one time. This allows us to connect with you and make sure you have found the information you need, or we can help you with any questions you may have.
5. "What if I can't attend on any of the days?"
There's a great window of opportunity for you to register your interest, even from today. If you can't attend the show, don't worry. We will follow up your interest after the event with a call or email to you, so even if you can't attend on any of the days you won't miss out.
This year of all years, we know there will be many of you facing an uncertain future, so don't miss out on this fantastic opportunity. Come along and discover the best way to start your own Screen Rescue franchise. When you have the support of a proven franchise system, and you take control of your own future, suddenly the road ahead can look so much brighter.
We can't wait to meet you, see you soon!
To learn more about the Screen Rescue franchise opportunity, visit them at the Virtual Franchise Show. Can't wait? Get in touch with Screen Rescue now.