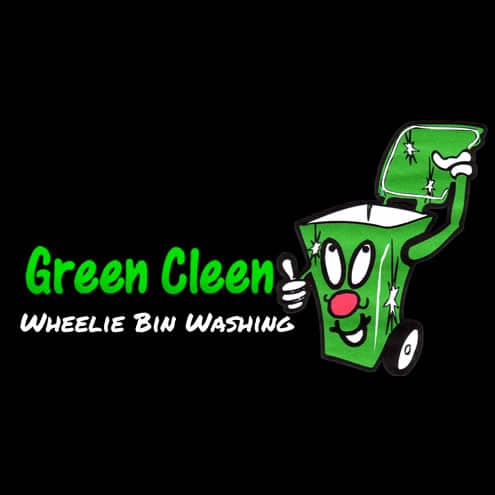 A "Wheelie" Unique Bin Washing Franchise
Become your own boss and achieve the lifestyle and income you deserve with this turnkey franchise!
Green Cleen Bin Cleaning Franchise Opportunity
Green Cleen supplies our Franchisees with market-leading water recycling bin cleaning equipment, large district or borough franchise areas, online round management software for managing your daily rounds plus approved training and support.
Formed as an extension to a well-established bin cleaning service, Green Cleen offers a proven but low-cost opportunity for business-minded people who are looking to establish their own bin cleaning business but following a tried and tested system, with backup and support from a team already heavily involved in the industry.
With over 95% regular repeat customers plus the ability to wash both domestic and commercial style bins makes this a perfect opportunity for people looking to start their own home-based business with the potential to expand to a multi-van operation. With no franchise fees to pay for the first seven months and no major stock or premises required means lower business overheads and increased profits.

Our franchise package includes:
Ongoing business and technical support
Technical and Environmental development
Updates in business
Our Trade Mark
Bulk purchase of all consumables
Membership to the Bin Washers Association
Sales and Marketing support
Industry-leading Bin Washing Equipment
With no manual lifting of the bins required due to our hydraulic lifting frames, we can wash both domestic and commercial style bins with ease. Our bin washing equipment is either pickup truck or transit van mounted making them highly effective and manoeuvrable unlike trailers or larger chassis.

Round Management Software
Green Cleen has developed the first bespoke bin washers online database software allowing our Franchisees to manage their daily rounds both simply and efficiently whilst providing essential customer account information at the click of a mouse. We are about to release the third major update to this software allowing it to be much more responsive to use on mobile phones and tablets whilst introducing a range of new features.
Green Cleen has been manufacturing bin cleaning equipment for over 25 years. The build quality is high and technical support is always available. These machines are rigorously tested for suitability within this business model on company-owned rounds where they are used as testbeds for any technical improvements. All Green Cleen Bin Washers are Safecontractor, NAWBW and CE approved. Our Bin Washers excel against the competition because they recycle all of the water used in the bin cleaning process whilst filtering it complying with all Environment Agency and DEFRA guidelines.
To find out more about the Green Cleen Franchise