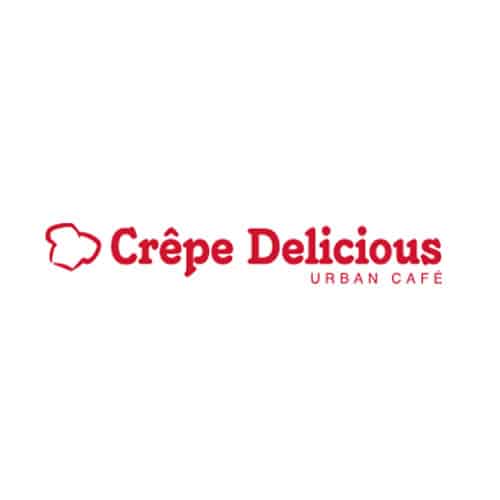 Join The World's LARGEST Crepe Franchise
Crepe Delicious is one of the largest and fastest growing creperies in the world. Established in 2004, Crepe Delicious has its origins in France. Chef Oded embarked on an international quest to find the perfect addition to a vibrant North American quick-service restaurant and fast casual industry.
His travels took him around the world, including Western Europe, the Far East and North Africa. While visiting Paris, France, Oded observed street vendors serving crepes and fell in love. He immediately began to visualise the combination of North Americans' love for street food with the delights of a fresh crepe. He took this simple yet stylish concept, combined it with his hotel/restaurant experience of more than twenty years and founded Crepe Delicious.

The Products
Since 2004, Crepe Delicious has been serving a unique menu of sweet and savoury crepes as part of our commitment to lead the resurgence in healthy eating. We are recognised for our world-class crepes and take great pride in creating an exquisite experience. All our crepes are made fresh to order just for you! The crepe itself has just 170 calories and 3 grams of fat and you can fill our crepes with your favourite fresh ingredients for a healthy meal.
Don't forget Gelato!
Our gelato ice cream is inspired by sensual flavours and the desire for fine quality. All our gelato creations are hand-crafted onsite daily, using only the finest and freshest ingredients in the same manner that we prepare all our crepes and compliant products. Lactose-free, sugar-free, and Vegan options are available along with a selection of fine sorbets with 0% fat content.
There are over 100 flavours to choose from. We also create seasonal gelato flavour that are influenced and inspired by locally grown ingredients. A perfect compliment to our specialty crepes, gelato was introduced within Crepe Delicious late in 2010; this was soon followed by strong growth throughout 2011 and today. Most of our Crepe Delicious locations offer the luxurious experience of gelato.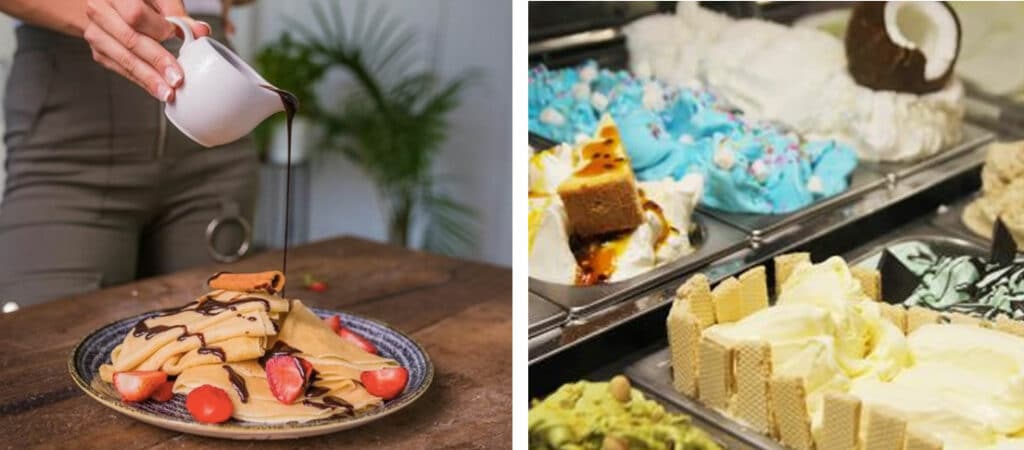 Your Franchise, Your Way
Franchisees can open a Crepe Delicious franchise either as a Kiosk or a Retail Store. The franchise fee for both is £16,000 and the costs involved with set-up of the franchise will vary depending on which option you choose. A Crepe Delicious Kiosk will cost around £80K fully fitted, whilst a store premises will cost between £100,000 - £150,000 depending on the size of the premises. Get in touch to learn more about the costs associated with a Crepe Delicious franchise.
Full Training and Support
With the growing network of company-owned and franchise stores in the UK and internationally, Crepe Delicious franchisees can benefit from a wealth of support provided by an experienced senior management team. This includes:
Location assistance and help with negotiations
Assistance in store design and fit-out
Guidance on the set-up of software architecture
Assistance with the launch of the business
Training at your own branch, pre- and post- opening
The Franchise Package
When you become a franchisee with Crepe Delicious, you'll receive everything you need to get started with this turnkey business model. This includes:
Rights to use the Crepe Delicious trademark, know-how and operations manual
Rights to use the branding and construction manuals
Full training and support including location assistance
Cloud based software through our partners, including fully configured EPOS and card processing equipment
24/7 IT support system
Various templates
National marketing strategy to supplement local advertising
We have agreements in place with various partners and suppliers so you can benefit from multiple revenue streams including collection, take-out and delivery via approved delivery companies such as Deliveroo.

Interested in Finding Out More?
Request further details today and be an early adopter for the highest rewards! We are on the look-out for entrepreneurial mindsets to help us launch this brand into the UK, with full support from a very successful F+B operator (who also owns and runs multiple brands) so you would be in good company! Ideally you would look to start with one store and then we can all agree to commit to you opening multi sites with a development plan