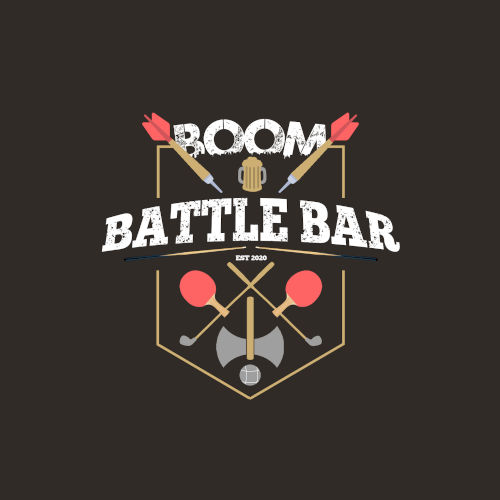 The Boom: Battle Bars Business
Boom: Battle Bars are an exciting new brand of activity bars opening across the UK. We've taken competitive socialising to the next level. Our bars are a unique blend of electrifying games, theatrical cocktails and delicious street food.
Consumer appetite for competitive socialising venues has soared in the last 24 months. People simply expect more from their nights out. Middle of the road is no longer good enough – people crave experiences. Our mission statement is 'to create unforgettable experiences, one guest at a time' and we place experiential activities at the heart of all our decision making processes.
The Boom: Battle Bars franchise is an inimitable combination of the hospitality and leisure sectors, affording franchisees the prospect of setting up a fun, lucrative business, in an ever-popular business sector. Continue reading to learn more.
What exactly do we do?
Our activity bars are typically 10,000 square foot spaces that consist of 6-10 games, a central bar and a couple of street food style offerings. We currently have 21 different games to choose from; some concepts can be seen in alternative venues, like axe throwing, electric darts, shuffleboard. Other games are proprietary, such as Boom Ball, Marble Tarble and Crazier Golf.
The cocktail bars act as the hub for our venues. Our venues seek to offer premium experiences, with elaborate cocktails paired with delicious, authentic street food and a unparalleled games experience you can't find anywhere else in the UK.
What does our franchise package provide?
In a word – everything. We're here every step of the way. It starts by giving you access to prime retail locations. We have strong relationships with all the major landlords in the UK and our covenant strength affords us tier 1 site opportunities.
After that – we support finance applications (and even provide finance in some cases), design the venue together, build the store and supervise the entire pre-opening marketing process. We provide franchisee training, store training and then our Operational team support you once you're open.
Who are we looking for?
We're looking for energetic, entrepreneurial individuals/teams who want to own an exciting business. We want people who are eager to succeed, grow and a show a passion that will add something to our network. The Boom: Battle Bar culture is paramount to everything we do and we need people to imbue enthusiasm and vigour into their own stores.
Learn More
If you would like to find out more about this exciting franchise opportunity with Boom: Battle Bars, please click below to find out more.