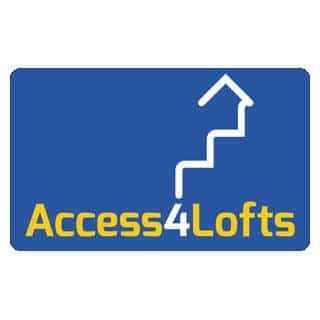 This lucrative van-based franchise helps people save on wasted space

Established in 2005 by Tim and Lindsay Brown, Access4Lofts operated in the local Devon area successfully for 8 years before demand for the service nationally led them to launch a pilot franchise in 2013 in Preston. The success of the pilot helped the business grow considerably and in 2018, Access4Lofts franchise was officially launched. There are now 33 franchisees across the UK from Glasgow to Torquay.
Access4Lofts are active members of the British Franchise Association and were proud to be named a finalist in the 2019 BFA HSBC Franchise awards in the 'Emerging Franchise of The Year' category.
Why choose Access4Lofts?
Huge demand: franchisees have several months of bookings.
Safe hands: we're proud to be accredited as bfa members and Which? Trusted Trader.
Great cashflow: customers pay you when you finish the job.
Dedicated territories: at least 150,000 households per area.
It works: former employees have invested to become franchisees.
Bespoke IT System: which automates much of your admin, no more paperwork!
We understand: because the management team have all been franchisees themselves.
Committed to support: bfa accredited with full training and ongoing support.
One big family: join a group of like-minded people who support each other and celebrate together!

The Access4Loft franchise opportunity
Our franchisees have chosen two distinct approaches to building their Access4lofts businesses and you can too, depending on your personal situation, ambition and work-life desires:
1. OWNER-OPERATOR
Proven to generate £120K+ sales with 40%+ net profit within 24 months.
Owner-operator franchisees need to be great with customers, possess some basic DIY competence, and be able to follow the proven system, as well as having the ambition to grow their business. They will undertake all installation work themselves and solely run the business.
They will complete one job per day over a four-day week, then spend the fifth day on business development enabling them to work around their other commitments.
2. MANAGEMENT BUSINESS
Proven to generate £300K+ sales with 35%+ net profit with two staff.
The management franchisee is a great communicator, ideally with some management experience, who works on developing the business to a multi-van operation and employs, and manages, fitters that do the majority of the installation work. They will need extra finance to invest in their team initially

Could you be an Access4Lofts Franchisee?
You will need to have a basic understanding of DIY, but the extent of your knowledge does not have to be far-reaching. If you are concerned about your lack of experience, get in contact with the head office to ask specific questions.
You also need to be in reasonable physical health to do the installs. Top physical shape is unnecessary, but your work will require handling power tools and going up and down ladders.
There is no age limit as Access4Lofts has owners in their twenties all the way to their fifties – your age is not an issue.
How much do I need to invest?
An initial investment of £29,950 + VAT is required to setup and establish your new business. We will provide you a detailed breakdown of where this money is spent, rest assured it is far better value than starting up on your own as an independent!
As a franchisee, you will receive completely tailored ongoing support to help you on your path to reaching your goals. If you are practical, we support you on the business side and if you have business experience we train you on the practical side.
How we train and support you
You do not need to have DIY skills or any professional training. During the included training course, you'll learn everything you need to know about installations. Previous franchisees have been from the building sector as well as unrelated sectors like retail and accounting.
The Access4Lofts bespoke admin system is undoubtedly our unique selling point, it takes away the stress of admin and accounts, so you can focus on creating space for your customer and creating profit for you.

It has been built from the ground up and is the result of us working alongside a specialist programmer over several months to create an easy to use single system that streamlines our whole admin process. From taking the initial customer telephone enquiry, through to quotes, order confirmations and invoicing, our system automates the process, leaving you free from worry and stress about when you're going to find time to type a quote and send it to a customer!
All our franchisees attend a 5 day residential training course held at our dedicated training facility in Devon.
You'll be guided through health and safety issues and learn how to fit our full range of ladders, hatches and boarding and of course learn how to use the comprehensive set of tools you receive as part of the franchise package.
Regardless of the amount of training you receive, your first few jobs may be daunting, therefore, we follow the training with 2 days operational, on-site support so that we can observe, advise or just give you the moral support as you start your journey. We have an Operations Director who franchisees can call on for support and advice.

Next Steps
As franchisors we are committed to best practice, to doing it right. All of us have been franchisees ourselves; we've been where you are right now, so we know what it's like! We remember the concerns, the steps on the journey to success and the feeling of contentment on achieving our respective goals.
If you would like to find out more about Access4Lofts please do get in touch. We look forward to hearing from you.